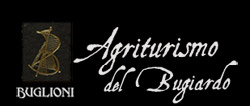 Farmhouse Verona - Valpolicella - Lake Garda
Located in the heart of Valpolicella, close to San Pietro in Cariano, halfway between downtown Verona and Lago di Garda, is the Buglioni estate. The estate is a fully functioning farm and winery.

Immersed in the expanse of vineyards, fields of wheat and fruit orchards is the "Agriturismo del Bugiardo.

The Agriturismo is in a mid 1800 farmhouse that was updated in 2005 with modern amenities. Many of the original architectural elements have been maintained, such as the original stone brick walls and wonderful old chimneys, creating a warm, comfortable and inviting place.

The farm has 15 spacious and comfortable double rooms. The rooms have the original stone walls and timber beam ceilings. Each room has a spacious bathroom, air conditioning and flat screen television. There is wireless internet in the common areas of the Agriturismo.


Breakfast is served every morning in the elegantly appointed dining room. On warm days, you can enjoy breakfast under the lush pergola "al fresco".

Bicycle tours of the surrounding country side may be organized at your request. We can also accommodate guided tours of the Buglioni winery and wine/food tastings in the cozy living room or under the pergola.

The Agriturismo del Bugiardo staff is prepared to help you with almost any request, including reservations for theater and opera, tickets for amusement parks, fairs and conventions and reservations for restaurants in the area.


If you want to stay close for dinner, you can visit the Locanda del Bugiardo, just down the cypress tree lined lane. At the Locanda, you can have excellent traditional Veronese cuisine and the delicious wines from the Buglioni cellar and many others as well.
10km of the Center in Verona - 15km of the Lake Garda
Wine for passion,
Valpolicella for origin,
Quality for choice,
reception for vocation,
the excellence for ambition.